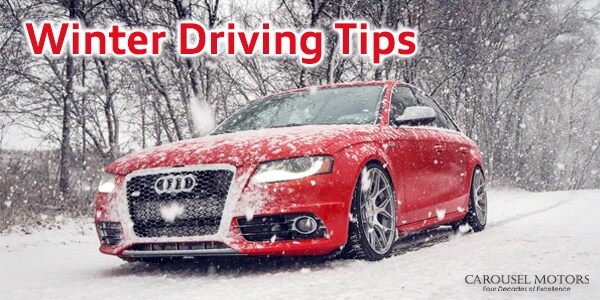 Carousel Motors Winter Preparation Driving Tips
1. Check your Tires: How is your tread? How is your tire pressure? If you are unsure about the status of your tires, bring your car by Carousel Motors and have one of our service advisors take a look.
2. Check your Wipers: Do you have a hard time seeing through your windshield when your wipers are running? It might be time to replace them. Our parts and service departments are here to make sure your investment is ready for inclement weather.
3. Check your Fluid: Winter driving can produce a lot of over spray and slush that gets kicked up from tires. It can be very dangerous to get a dirty windshield and not have any fluid to keep it clean. Make sure to get sub-zero fluid so it doesn't freeze on you. 
4. Check your Brakes: Don't get caught on the ice with under performing brakes. It's a good idea to let a qualified service technician inspect your brakes on a regular basis. 
Also consider these tips from the Iowa DOT
1. Be sure your vehicle is running well and equipped properly for driving on potentially dangerous roads.
2. You should have a supply kit that includes an ice scraper, snow brush, extra windshield wiper fluid and anti-freeze and a basic automotive tool kit that includes jumper cables and flares.
3. Put together a supply kit for your trunk, in case you get stranded. Include a flashlight, first-aid kit, blanker, shovel, sand (to give tires traction), non-perishable snacks and drinking water. You might want to include other items based on your personal needs.
4. Be sure you have at least a half tank of gas in your vehicle (short commutes can turn into long ones when a storm hits) and a full reservoir of windshield wiper fluid.
If you MUST venture out, consider this: 
1. Slow down and maintain a safe following distance between you and other vehicles. Pass with extreme caution. Excessive speed is the No. 1 cause of wreck in winter weather.
2. Do not use cruise control.
3. Approach bridges and overpasses with extreme caution since they accumulate ice first. Do not apply your brakes while on a bridge.
4. Come to a complete stop or yield the right away when approaching an intersection where traffic lights are out. Treat this scenario as a four-way stop.
5. Clear as much snow and ice from your vehicle as possible before venturing out.
6. Drive smoothly, without sudden acceleration, braking or turning.